From the President's Desk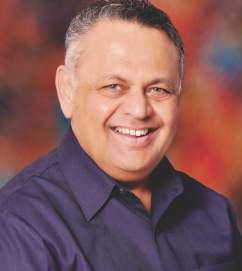 "Learning is not achieved by chance; it must be sought for with order and attended to with diligence.''
I take a profound pleasure to pen my message for Anglo Urdu Girls' High School" a door towards success which showcases the hidden content, talent, skills of the students Their artistic sensibilities – a beautiful blend of creative writing, modern thinking, aesthetic and athletic potentials M.C.E. Society has scrupulous tapped, promoted and nurtured true talent by sheer determination, devotion and dedication. This progressive institute has inculcated not only moral values strengths in the youngsters, but also encouraged the advent of technology in the field of imparting education. I opine that the winds and waves are always on the side of the ablest navigators. I yearn and strive hard to train the young minds to become true leaders for the times to come. "Women empowerment" and " Girl Power" is the call of the day and hence I take immense proud to know the fact that here commendable academic excellence is proven in the outstanding achievement like MS CIT, CCC, exams and Hardware Language enhancement be it Marathi, Urdu and English is the course of our all-round development The exemplary performance of the students in all the curricular and extracurricular activities affirms the fact "The hands that rocks the cradle rules the world"
As an ardent admirer and supporter of traditional values with modern education, as an educationist my thirst is on orienting our students to become Job generators rather than job seekers. "Perseverance persistence, patience and perspiration make an unbeatable combination for success"
This alma-meter has been an abode of navel ideas which emphasize on "Responsibility recycle and recreation"
I firmly believe, "If you focus on results, you will never change, if you focus on change you will get result,"
The Principal Mrs. Ayesha A. Shaikh with her leadership skills and her highly spirited & motivated teaching faculty members and exuberant students have been a hall mark of this prestigious institute.
Their whole hearted zeal enthusiasms, positive blend of mind, innovative abilities have enabled the students to attain success.
I forward my blessings and best wishes for future.